In Loving Memory of Dr. Dennis Miller
This website is dedicated in loving memory to Dr. Dennis Miller, who passed away July 18, 2017. He joined the practice in 1986, and for 31 years served his patients in Mariposa in partnership with Dr. Tim Barnes. He was a consummate professional, great dentist, and caring to staff and patients. Losing Dr. Miller and his kind and loving spirit will leave a void in the many lives he touched.
---
About the Practice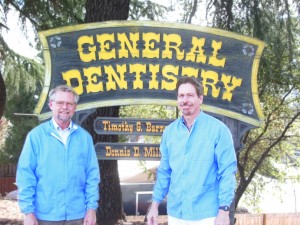 Dr. Timothy Barnes and Dr. Dennis Miller are both lifetime California residents who did their undergraduate studies at the University of California. Dr. Barnes was an honors graduate at UC Davis, and Dr. Miller was an honors graduate at UCLA. They both attended dental school at UCLA where they were classmates and graduated in 1979.
The office has two registered dental hygeniests, Chris Gonzales and Mina Prathaftakis, who provide comprehensive periodontal care ranging from standard prophylaxis (dental cleaning) to scaling and root planing with local anesthesia.
Our goal is to provide quality dental care and to do it gently and affordably. We "cater to cowards", and will tailor your treatment plan to fit your needs and financial situation – with or without insurance. Most dental care is elective and can be done in phases to help maximize insurance benefits. We offer complete family dental care, and in the event that a patient needs to be referred to a specialist, we will assist you in this matter. We work with specialists in both Fresno and Merced, and we will find the best doctor for you. Everyone wants the best smile possible, and we want to provide it for you. Educating our patients is a priority so that an informed decision may be made by the patient – We work FOR YOU, and when you are happy we are happy, and we hope that you will want to send your friends and family to us.